Discussion Starter
•
#1
•
Greetings from the National Corvette Museum in Bowling Green, KY.
I want to reach out to the motorcycle community to spread the word about our new motorsports park, scheduled to open next year.
WE ARE BUILDING A VERY MOTORCYCLE FRIENDLY TRACK! PLEASE HELP SPREAD THE WORD.
Update # 1 – 6/6/13
Start your engines! The National Corvette Museum (NCM) Motorsports Park is about to become a reality!
This thread will be used to provide regular progress reports for the track.
1. The trees are being cleared, the dirt is being moved.
2. The "official" groundbreaking (and some exciting news) will take place at 9:30 a.m. on Friday, June 28th during the Museum's Corvette 60th Anniversary Celebration. Everyone is welcome!
3. The NCM Motorsports web site is:
http://www.motorsportspark.org/
4. Construction and aerial photos will be posted regularly.
5. While the fundraising campaign has had a great deal of success, the end product will depend on continuing efforts to solicit donors and corporate sponsors.
6. The deadline for the "One Acre Club" membership is 12/31/13, so don't wait until the last minute. For the "track rats" and HPDE sponsors, it can be used for track time. This is a great opportunity to get your name in as a founding member of the Motorsports Park.
More to come…stay tuned. :cheers:
Looking south on I-65, Motorsports Park on the left and the museum on the right:
Update #2 - 6/6/13
The following are the four track configurations in Phase I.
There is a total of approximately 4 miles of track, and a 50' elevation change, but some of the elevations (up and down) are quite abrupt. Think "Madness"!
Track map showing two configurations, East Course, 1.1 miles, 9 turns, 1150' straight. West track, 2.0 miles, 11 turns, 1950' straight:
Grand Course, 3.15 miles, 21 turns, 2300' straight: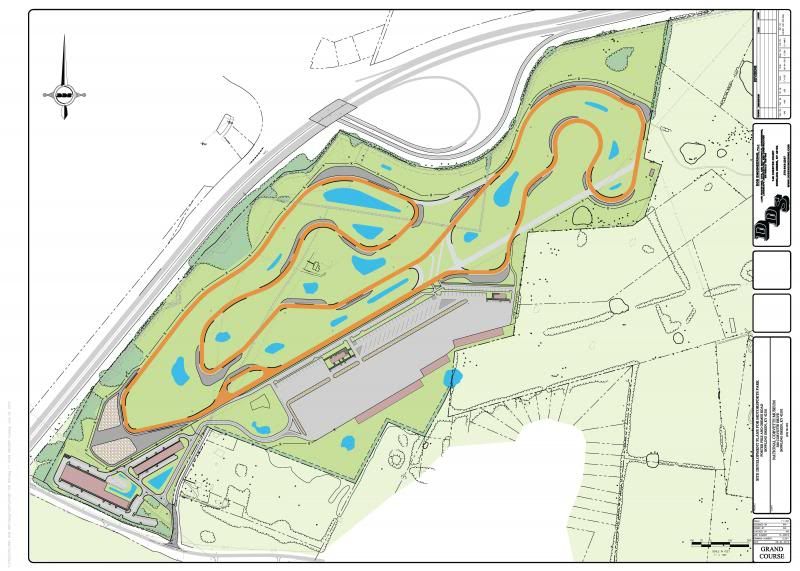 Grand / Max. Straight Layout, 2.87 miles, 14 turns, 4000' straight.
:cheers:
Update #3 - 6/9/13
The following is the Master Detailed Development Plan for the NCM Motorsports Park. This includes the Phase I which has been committed to on the 184 acre dark shaded side of the image. It also includes the Phase II section (lighter section) located on 221 acres of adjacent land which has not been committed to at this time. The potential development of Phase II will depend on the success of Phase I, additional fundraising efforts, and a demonstrated need for the additional development.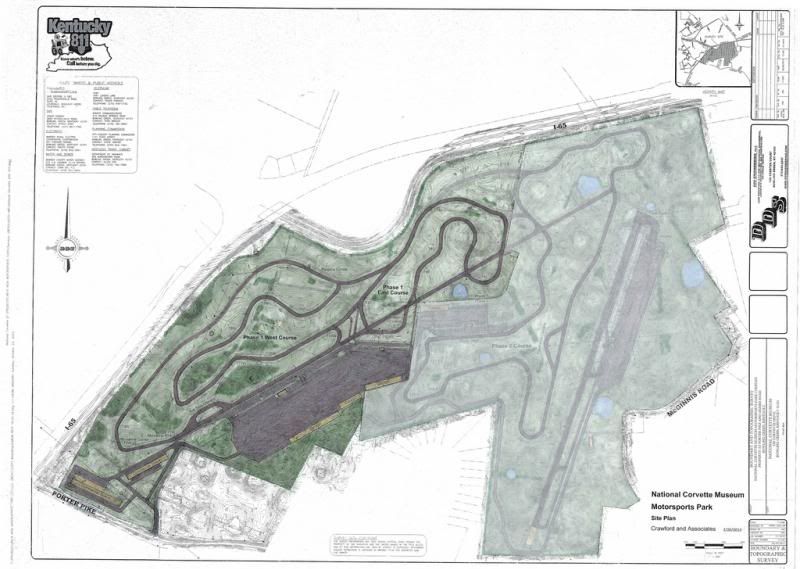 :cheers:
Update #4 - 6/9/13
The NCM Motorsports Park is now accepting reservations for track rentals for Sep - Dec, 2014, and the full calendar year of 2015. Early registrants will receive first priority date selections and discounted track rental rates, plus several other "perks" for stepping forward and getting the ball rolling.
The Corvette Museum will be using approximately 25% of the available track time, and the rest of the time is available for car clubs and track day sponsors.
For more information contact:
Roc Linkov
NCM Motorsports Park Project Manager
Direct line: 270-467-8802
email:
[email protected]