Quote:
Here is how I painted my 00 R1 I too wanted something different, it had been wrecked, I repaired all of the damaged plastic and dented tank, all of the graphics are air brushed on there are no decals on the bike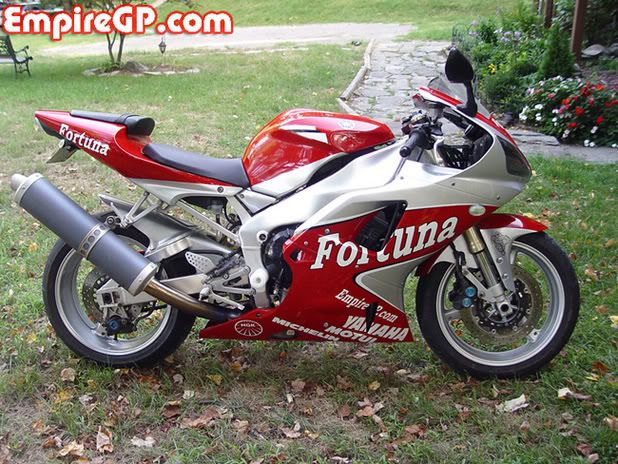 Before
If you go to my web site you can see lots of examples of bikes that we have painted there is also a section of race replica paint jobs to look at, there are also a lots of bikes that we painted under the examples section at the top of the page under finished bikes. I often tell customers to look at the picture sites out there and get a good idea of what you like and don't like,
This might give you some ideas anyway..Bob
http://empiregp.com/
Looks good. Glad you posted. I was just trying to remember the website. May need to send some pieces to you.
---
Dan
1991 FZR 1000 - built 1040 with race cams, Akrapovic full exhaust, and mild suspension work
2004 YZF R1 - Graves full exhaust, velocity stacks, BMC race filter, and Power Commander. Rear Ohlins. Forks rblt with Race Tech springs and Gold Valves.
2005 20th Anniversary V-Max (0098/2000) - T boost,
2005 YZF R6 track bike - Graves full exhaust, Race Tech suspension
Quote:
Hi YG-

Save the money and just sit tight for a few more years. Enough people will wreck their 00' Yamahas that you won't see too many red ones on the road anymore. I can ride practically forever without seeing another pristine Honda CBR 600F2 like mine.

~ Blue Jays ~
Yep , not many Hondas run, let alone down the road...
---
Don't interfere with anything in the Constitution. That must be maintained, for it is the only safeguard of our liberties.
Abraham Lincoln
Join Date: May 2007
Posts: 452
ice_carver is another
[email protected]
character.... probably even him too
last post 2006 before now....