Join Date: Sep 2002
Posts: 11
What would be your Dream sports bike?
---
I'm doing alittle research, and i want to know if you could build your own dream bike, how would you build it?
What color?
What graffics? if any?
What size engine?
How many cylinders?
Would you have ram air?
Would it have a single or double sided swing arm?
Would it have single, double, triple head lights?
Would you build a Pinto $$$ so people could afford it or would build a Ferrari so the rich and famous could only enjoy?
What ever else that you could dream up, please let me know, thanks...
ps
send pics or drawings if you have them?
[email protected]
Join Date: Nov 2002
Posts: 101
2002' Yamaha R7
Red/White cause they don't make that color anymore.
701cc displacement
Ram Air
Single Swing Arm
Dual Headlights covered with plastics
The price would have to stay high because of the supply

Here's the closest picture I have.....
Join Date: Jul 2001
Posts: 865
---
Dragging elbows one-handed.....gotta love it....
Join Date: Mar 2002
Posts: 363
Join Date: Jul 2003
Posts: 186
Buy a y2k. Looks like a kaw zx-7 but it is a little longer. and it has a helicopter jet engine. Sounds like a f-15 going down the street. Super fast no busa is going to touch that and it is only around $150,000.00
Join Date: Nov 2003
Posts: 46
dream bike
---
Well if it was my dream bike then it wouldn't be one out there now, and it would have technology that isn't out there now. It would have a body similar to the tl1000r. It would have an adjustable engine size. It would go from 50cc (for putting around town where speed limit is 25), to 1300cc. It would have the ducati lights but three vertical instead of two. It would have 130's on the front and 190's on the back. It would only weigh 200lbs. It would be black with blue lightning bolts. It would be four stroke in-line 4 with quadruple exhaust (2 undertail like 04r1 and 2 high mount sides). All 4 pipes would be D&D pipes, but with adjustable sound levels from stealth to blow your eardrums out.
I know some of you are going like this
, but the topic of this was dream bikes and this would be mine!
A street legal Ducati Moto GP Bike built with Honda Quality for $30K and an extended warranty.
---
Steve Sallberg
Anderson, SC
Join Date: Nov 2001
Posts: 377
I always hoped Ducati would build a street legal version of the Supermono. Saw Cathcart on one at Phillip Island once. The sound was awesome.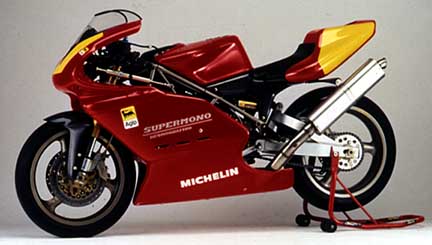 Join Date: Sep 2001
Posts: 10
not sure
---
A motoGP bike would be the shyt, but realisticly the average joe couldn't ride a beast like that so I'd pick something that I could actually ride without killing myself. I'd say something rare and in mint condition like...

NR750
RC30
R7
Join Date: Sep 2003
Posts: 22
For colours I'd want black or charcoal-grey, something that would give it a sinister street-fighter look without catching unwanted attention from local authorities. I'd keep away from graphics, just nice and understated, but I like the idea of having the frame and wheels painted a contrasting colour like red.

The engine would be a 998 or 999 displacement and either a V4 or V-twin, something with attitude and an exotic flare. I'd like five valves per cylinder and fuel injection to keep up with the times and ram air through a single air duct.

I'd go with a double sided MotoGP style swing-arm only for the performance advantage. I'd have 2 headlights on the race-rep version and 1 on the naked version.

As for price, as much as it had to be in order to ensure the absolute best. I'd also sell a limited number in order to keep demand up.