Join Date: Feb 2007
Posts: 153
ICON Urban Tank Bag
---
I just picked this up last week.... I was getting sick of the backpack weighing me down.
It's perfect for dragging sh*t to work or a small grocery run...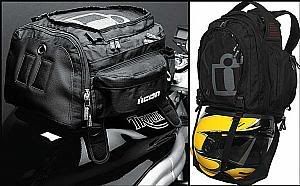 Join Date: Aug 2007
Posts: 15
How big is it? Is it like a backpack sized bag? I'm annoyed by the backpack too... mostly because it is summer and it covers the air vents in my jacket and I sweat like a mo'fo'!
Join Date: Feb 2007
Posts: 153
yep, pretty damn big for a tank bag..... doesn't get in my way tho. I use the crap outta mine. It's ok as a backpack too as long as its not to heavy. This is a great tank bag........ I can't stand riding with a backpack!!!
Join Date: Aug 2007
Posts: 15
Good stuff, thanks for the info.
Join Date: Jun 2005
Posts: 892
i have one as well, its not as big as it is in the pic. thats packed full it collapses a lot. i love it. both for carrying my helmet ariound when i have to do a lot of walking and the see thru pocket on the top for maps, because i am directionally retarded
Join Date: Nov 2007
Posts: 155
I have been looking at that and wanting...good to hear about it.
Thanks