The Cookees grew a Bonsai Tree!!
---
SHE'S HEEEEEEEERRRE!!!
Our little girl, Dale Taylor, was born on February 23rd, 2010, at 5:11pm (sorry I've only just gotten around to posting this; life's been a bit hectic).
She weighed-in at a decent 8.5lbs, was 22" long and had head diameter just over 14".
This pic was taken about 30mins after the birth.
Mrs Tree endured an 18 hour labour, with a solid 1 1/2 hours of active labour at the hospital. In the end, a vacuum extraction was required, but our little girl was soon with us.
Mother and daughter are both doing very well. Dale is taking 2-3 feeds during the night, so we're getting a bit of sleep, but not huge amounts.
I'm absolutely lovinig being a Dad.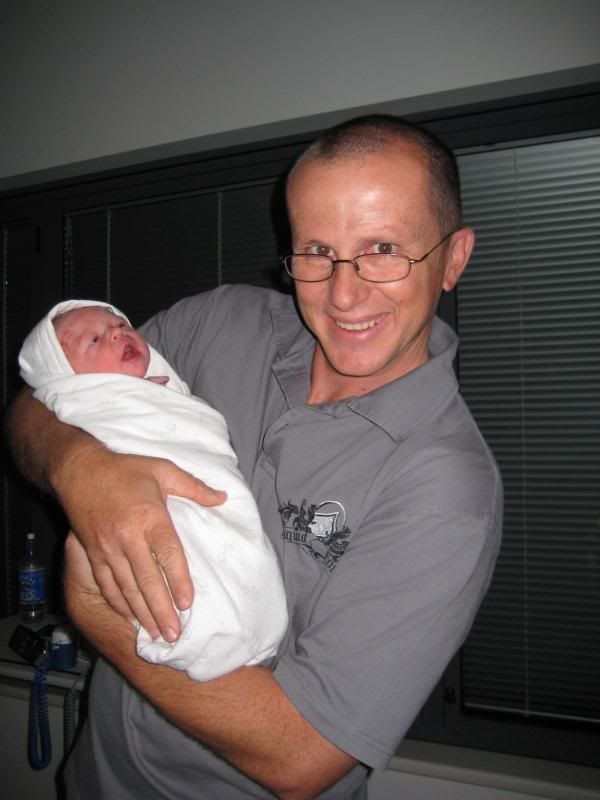 Anyway, guys, must keep movinig. If any of you would like to keep in more regular touch, feel free to contact me at yaaargh-who dot kom dot 'ey you! Mention SBW in the title to avoid being flicked to the spam bin.
Ciao,
Jason (cookeetree)
---
In God, we trust; all others must provide data.
Congratulations! Pass along well wishes to Mrs. Tree from all of us.
---
-
"We didn't trade shoves; I did all the shoving." -Bobby Knight, 1981
Congratulations Cookee, glad to hear everyone is doing well.
---
"The only difference between death and taxes is that death doesn't get worse every time Congress meets."
-Will Rogers
Strength and Honor
Join Date: Oct 2002
Location: Central IN
Posts: 6,144
Whew, quite a bit of work for you two. Congrats, of course. So you have a rider, now when are you and the Mrs. going to work on conceiving the bike mechanic?
---
SportbikeWorld Supermoderator

Dragging knee is for the track, and dragging tail is for the lot. --Kane Friesen

When you're in a car, you're watching a movie; when you're on a bike, you're in the movie. --Robert Pirsig

Identity theft is not Fun
Registered User
Join Date: Jan 2011
Location: uk
Posts: 5
Congratulation and a warm welcome for the new member at home. she looks very pretty and quite. may the good god bless you guys.
---
Last edited by DanQ; 01-19-2011 at

07:43 PM

. Reason: spam link