Join Date: Apr 2005
Posts: 2,890
Handgun Question
---
I am in the market for a 9MM/.40 cal semi-auto handgun. I was looking at the Glock 17 / 17L / 34, but I have a problem. I am a lefty, and I am sick of owning handguns with the safty and clip release on the left side of the gun. Is there such a thing as a handgun this style which has those items located on the right hand side of the gun?
Join Date: Mar 2000
Posts: 582
I like Glocks because....They are light, very reliable and easy to maintain.

I DON'T like Glocks because....their triggers BLOW, and to me, seem unsafe....



Before you flame me....My best friend has the 10mm glock and it shoots VERY well. EXTREMELY accurate....


But...the trigger feels like a fuckin' kids toy.... :-(


If...you REALLY like to shoot...and would like something REALLY well made , reliable and pinpoint accurate ( without breaking the bank), then check out the CZ line of pistols...
Not sure if the mag release can be switched.. :-(
I have the CZ75 BD PCR, and it's ONE BAAAAAAAD ASS PIECE!!
SUPER accurate.
ULTRA dependeble...and.......
The trigger feels as crisp, smooth and predictable as my S&W 686.
can get hi caps for it and it holds 14 =1


I have a Beretta 92fs and it's a TOTAL chunk O' $hit compared to the CZ. :-(
I use it as a paperweight cause it's too big to carry) (the 92fs, that is)


Check it out and good luck in your search! :-)



Jimmy G
---
Last edited by jimmyjr; 12-07-2005 at

11:10 AM

.
Join Date: Jun 2000
Posts: 1,991
Hi ZX6R1033-
They're a bit expensive, but you could always go for the completely ambidextrous
Heckler & Koch P7
family of autoloaders. It has a squeezecock design and the magazine release is on both sides with no additional external safeties to slow the draw. Here is the .40 S&W version: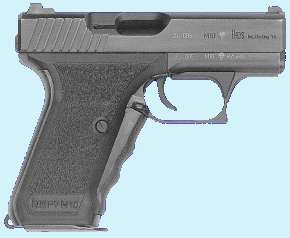 Here is the same pistol in the more compact 9mm size. I know that this was the official sidearm of the New Jersey State Police for a number of years. I'll have to see what I can do to find pictures where you can clearly see the vertical magazine release on both sides of the frame:
This is one topic (besides motorcycles) that I love to discuss!
I'm hoping that our friend Smitty also sees this thread and chimes-in with suggestions. Good luck with your research and next firearm purchase.
~ Blue Jays ~
Join Date: Oct 2005
Posts: 51
Only thing i can chime in on this one is about the Glock. Have a Glock 21 and it is light but feels "cheap" also has wierd trigger pull to me which in turn throws off my aim. Perhaps it is something that i will grow into but who knows. I have now also heard of them exploding since my purchase.

Good luck finding a lefty
Join Date: Jan 2002
Posts: 6,400
I know that Joseph Dlask a Cdn pistolsmith/gun maker, dial in
www.dlask.com
& you will come up with a Cdn gunsmith/maker with CNC machinery that spent some time designing a semi-auto I am sure is in 9X19 to 40S&W but possibly 10mm or 45ACP I do not know. It will show on his sight. Believe he also has a shop in Blaine Wash though times have changed & he might not. Still some interesting guns he churns out.
This is the chap that had a Colt 45 Government Model made out for someone else, with all the bells & whistles only the customer could not come up with the money. Then a year later made a 45ACP to my specks with STI slide, Caspian frame, Bailey bbl & bushing, titanium trigger & hammer by him & so much more.
Also think I ran into something by Kimber(?) though note I question myself, that has a mag release on right side & possibly ambi safety as I have on a number of my semi-autos. I could have read that in a gun board or one of the recent issue of American Handgunner. Remember ambi safety release are easy to put on most center-fire h/guns.
I am not a Glock man either & prefer my Browning action guns along with my Browning P-35 & CZ-75.
---
Last edited by Smitty; 12-07-2005 at

01:25 PM

.
Join Date: Apr 2005
Posts: 2,890
My cousin has a Glock 17C. I love the feel of it, with one exception... My pinky barely fits half way onto the handle. I definitly want a hangun with a full size grip. Small handguns are not my thing. I don't carry a sidearm, so size has never been an issue.

Also, nickle plated doesn't really interest me at all.

The handguns that blue posted pictures of look like nice guns, but they seem a bit small for what I am looking for.
Join Date: Oct 2003
Posts: 232
I have the GLOCK 17. I am also left handed, it took a little getting used to but after a bit of shooting you get used to everything on the "wrong" side. I asked around when I had to buy my gun, but I was told that there wasn't anything out there specifically for left handers. I like the gun a lot....cheap for target practice. I have not had one problem with it.....I have had it for almost a year.
Join Date: Jun 2000
Posts: 1,991
Hi ZX6R1033-
You might want to research some of the larger .45 ACP models because I believe there are a few with safeties and magazine catches that can be reversed. If my memory is correct, I believe that Llama and/or Star offered a model with the ejection port on the left side of the firearm as well. You could also go with a revolver if you don't wish to be bothered with external safeties at all.
As an aside, the .40 S&W Heckler & Koch P7M10 models pictured above aren't small. They're made with a steel slide on a steel frame and weigh something like 42 ounces with an unloaded magazine. Click this interesting
link
for some additional details.
~ Blue Jays ~
Join Date: Apr 2005
Posts: 2,890
Revolvers are definitly out... I have never liked them.

the HK is indeed a very sweet looking handgun.

Thanks again for the advice.
Join Date: Jan 2002
Posts: 6,400
Most left-handed civiliarn people are not at home with revolvers ONLY the police all got the hang of them in the days prior to semi-autos being issued. One of the two f/arms instructors of this area for RCMP is a left hand shooter & is at home with his S&W semi-auto DA only 9X19.

If you were ever in competition with other PPC competitors, especially police or retired police, you would be amazed at the speed they can be from the sixth shot to the seventh shot being dumping the spent brass & use of a speed-loader I have seen some that did it in 4 to 6 seconds & still shot that tight that they would win-----------proof that trained to do it then can be darn fast.

Being right handed my fastest is 8 seconds & average is 10 to 12 seconds & best I have ever scored is 402 out of 500 while so many of these police or retired police are way up in the 400s which included some lefties. So not only are they more accurate shooters, but faster in speed-loading.
---
Last edited by Smitty; 12-08-2005 at

01:48 PM

.