Submission for bike contest
---
Here's my 99 VFR800. Took it a few years ago at the local lake.
---
Help control the squid population, have your squid spayed or neutered

"it's not the smart ass behavior that gets to me... it's the dumb ass behavior that is a problem..." -Quote from my Aunt.

Only motorcycle riders understand why dogs stick their head out of car windows.
Strength and Honor
Join Date: Oct 2002
Location: Central IN
Posts: 6,144
I want dan to put up one of him on any of the many, many rides that are so classic and sweet, but in a dark tinted lid. Kind of like the "Wilson" (from Home Improvement) of SBW.

No point in application for me, I don't keep my ride immaculate, or in one piece for that matter.
---
SportbikeWorld Supermoderator

Dragging knee is for the track, and dragging tail is for the lot. --Kane Friesen

When you're in a car, you're watching a movie; when you're on a bike, you're in the movie. --Robert Pirsig

Identity theft is not Fun
Join Date: Feb 2008
Posts: 30
This is my Bandit:
Year:2001
Model:Bandit 1200s
Eng size:600X2
Pipes:Holeshot Comp 2
Seat:Suzuki Gel
Wheels:RC Componets
Accessories:
Holeshot 1216 Big Bore Kit
Holeshot Complete Head Work and Porting
Larger Valves and added porting\
APE Heavy duty valve springs and retainers
APE Manual Cam Chain Tensioner (I use the install from the GSXR, so disregard the oil jet and the ball bearing)
GSXR Intake Cam
GSXR Exhaust Cam
Holeshot 5 Deg. Timing Advancer
Holeshot P.A.I.R. Removal Kit
Holeshot Full Step Comp 2 Header System
Holeshot Fork Brace
Holeshot Exhaust Hanger Bracket
Holeshot Motor Mount Kit
Holeshot Steering Damper
Holeshot rear sets
Holeshot super sport Handle Bars
Mikuni 38mm Smooth Bore Carburetors
NCR Signal Generator cover and starter clutch cover
Racetech Front Suspension
Fox Rear Shock
Pyramid Hugger
DID 530 ZVM X-ring chain and sprocket
Bar Snake from Holeshot
Lockhart-Phillips Tail Light Integrator
Lockhart-Phillips Stubby Turn Signals Front
Suzuki Gel Seat
Eurobike (better lowers)
RC Components Daytona Spun Aluminum Wheels
Metzeler Sportec M1 tires
Ferodo Brake Pads - Front and Rear
Galfer Front Steel Braded Brake Lines
Galfer Rear Steel Braded Brake Line
Zero Gravity Double Bubble
Pingel Fuel Valve
And the story:Just wanted to build one custom sleeper but really fast Bandit.
Join Date: Mar 2003
Posts: 93
Well it looks like you succeeded at building a custom sleeper. Nice bike.
Wow can't believe only two pictures posted???
unless I'm not looking in the right place for submissions?
Will there be a new thread for each month?
I would like to submit my 929 and my Busa... can one person enter two different bikes and say one bike one won month could I still reenter the other bike later?? (figured there are many others out there that have more than just one ride and might have the same question
)
E.
oh prob shoudl ask if mods can enter LOL
---
SportbikeWorld Supermoderator

If it's too good to be true... then you must be Dreaming.


ONLY FEMALE WORLD WIDE to run in the 7's with a Prostreet Bike (no bar, slider, 2step, or slicks)


Sponsored by: RCC Turbo, Bellman Oil, Syed Leathers, Schnitz Racing, Boost by Smith, Cycle-Tek, Tiger Racing, Machine Works Racing, R&R Trailers by RandPCarriages.com, Mirror Look Customs, Rev'd Up Motorsports, and ofcourse SportBike World !
Here is my 2005 zx-10r.
Year:2005
Model:Kaw zx-10r
Eng size:
Pipes:Akropivic Evo II
Seat:Stock
Wheels:Powder Coated White
Accessories:
PCiii USB
G.I.Pro
Speedohealer
16t Vortex front sprocket
Kaw Race Intake Cam
.45 Head Gasket
Bmc Race Filter
Scotts Damper
CRG Levers (shorty)
Gilles Rearsets
Puig Double Bubble
Custom paint.(Body)
And the story: I've always been a Kawasaki rider. Had my 97' zx-7r for 6 years and thought it was time for a upgrade. Got this bike in the end of 2006 and the Modding has yet to stop. I just wanted something that people can look at and say. Yeah that's _______ bike. A one of a kind.
heres my entry.
here she is, the sexy hotness
mod list:
2004 honda cbr 1000rr WSBK Hann Spree race replica
pc3-usb, custom dyno tune 161.4whp 81.7wtq, arata titanium slip-on, bmc race filters, gutted air intake, 2006 velocity stacks, DID erv3 520 conversion w/driven sprockets 16/44, nicky mod (race front sprocket powder coated black), speedo healer, accumen digital gear indicator, vfx intergrated tail light, watsen 1st gen flushmounts, solo seat cowl, carbon fiber heel guards, 2007 rear shock, pivot, and HRC linkage, motovation no-cut frame sliders,puig db screen, 2007 wheels, 2007 320mm rotor upgrade in black trim, michelin pilot power 2ct's with a 55 series rear tire (street set-up), 2007 wheels/2007 rotors w/ power races and a 55 rear (track), vesrah rjl brake pads (front and rear), ATE super blue racing brake fluid, stomp grips, camera mount, custom painted trim pieces. im tires of typing, i think thats all. lol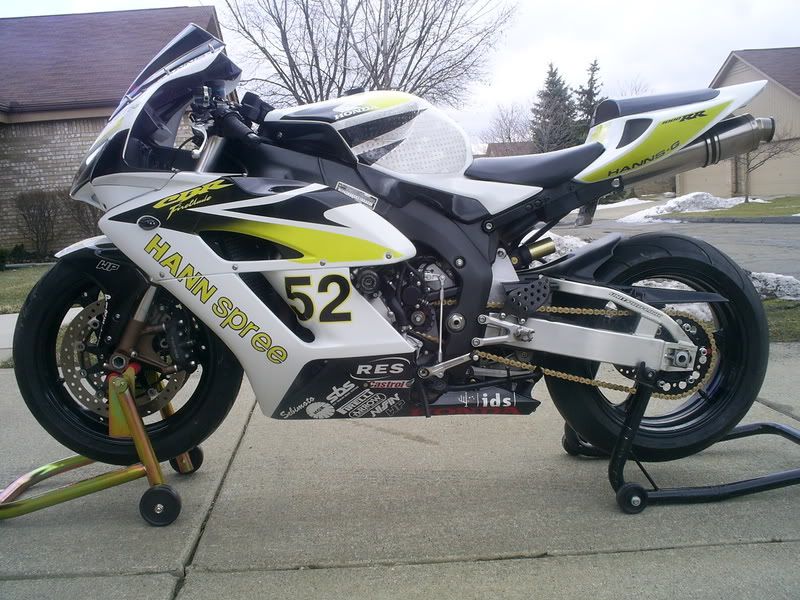 ---
_____________________________________________

Redline Superbike Member

2004 Honda CBR 1000rr WSBK TenKate Hann Spree race replica



To view links or images in signatures your post count must be 10 or greater. You currently have 0 posts.

Join Date: Feb 2008
Posts: 30
Quote:
Well it looks like you succeeded at building a custom sleeper. Nice bike.
That is exactly what I did and it does a good job at it.....LOL
Thank you for the compliment.
Join Date: Feb 2004
Posts: 11
Here's a shot of my 2003 CBR600RR. I ordered it when it was announced that Honda was going to produce them in 2002. The write-ups were great and it hasn't disappointed me yet. I ride it a lot and have approximately 45,000 miles on it. Not bad seeing its not my only bike. During the winter I sit around and think about new mods and gadgets which I then add in the spring....within reason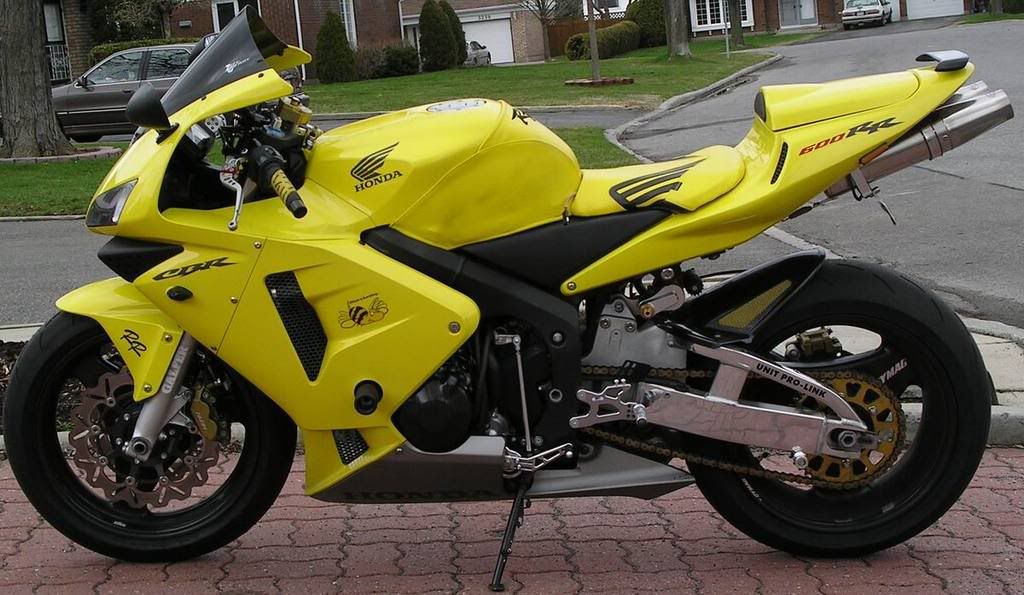 Dymag Carbon Fiber Rims
Laser Extreme Exhaust
Power Commander III USB
Scotts Steering Damper
Reverse Indigo Blue Instruments by Blue Gauges
Acumen DG8 Gear Indicator
HID Lighting
Datatool LED Rev LIght
Yellow Box Speedo Correction
PNP Adjustable Rearsets
Metisse Carbon/Kevlar Engine Covers
Vortex Sliders
Smoked Double Bubble Wind Screen
Honda Line Rear Seat Cowl
CRG Levers
Polished Swingarm
Metisse Vented Carbon Fiber Rear Hugger
Carbon Fiber Kick Plates
Galfer Steel Braided Brake Lines Front and Rear
Galfer Brake Pads
Braking USA Waverotors
Ohlins Rear Shock - 7.5 Weight Spring
Race Tech Springs and Shims
Forks - Ohlins Valving - Compression and Rebound
520 Conversion Down 2 Up 3 Down
DID EVR Gold 520 XRing Chain
Integrated Tail Light
LED Front Signals Watsen Design
LED Strip Running Light/Signals on Either Side Of Tail
Scorpio Alarm With Remote Pager Alert
Seat Cover and Tank Bra by Second Look
and of course the Targo Spoiler - people either love it or hate it
Tires are Dunlop 208 GPs and I will be running the 209's this year and trying out a 190 rear
Quote:
and of course the Targo Spoiler - people either love it or hate it
First thing I noticed...It's unique, but I think it's going a little overboard. Otherwise, it's a nice looking bike
---
"The only difference between death and taxes is that death doesn't get worse every time Congress meets."
-Will Rogers