Registered User
Join Date: Mar 2008
Location: Hendersonville, Nc 28791
Posts: 13
you should put there spoiler on your helemt it might help your track times lol, its a nice looking bike and the spoiler dosent look that bad i havnt made up my mind if i like it or not lol
Has the Bike of the MONTH been won this year????
---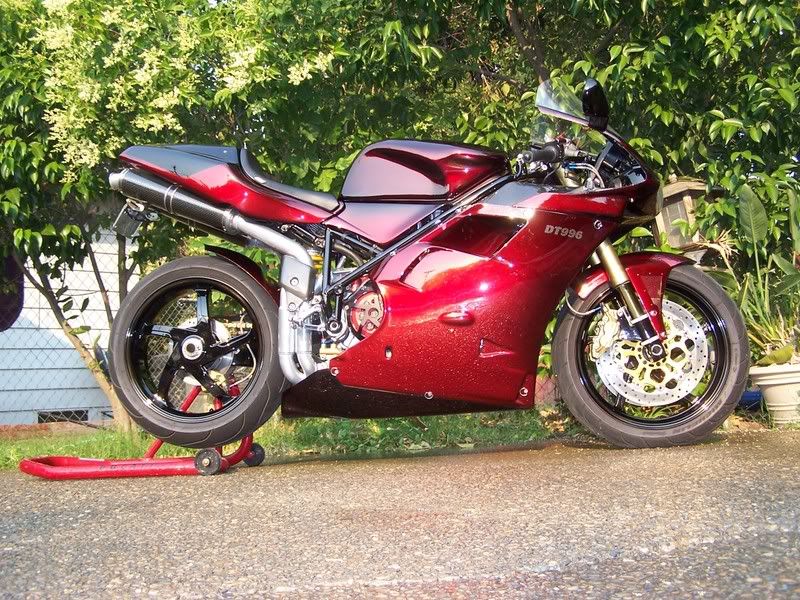 They didn't specify which month the contest was for
Seriously though, that's a nice looking bike
---
"The only difference between death and taxes is that death doesn't get worse every time Congress meets."
-Will Rogers
I think 'Leap Month' was designated as the decision period.
Strength and Honor
Join Date: Oct 2002
Location: Central IN
Posts: 6,144
Quote:
I think 'Leap Month' was designated as the decision period.
---
SportbikeWorld Supermoderator

Dragging knee is for the track, and dragging tail is for the lot. --Kane Friesen

When you're in a car, you're watching a movie; when you're on a bike, you're in the movie. --Robert Pirsig

Identity theft is not Fun
DT - Mate, I've said it before and I'll say it again...
That is a beautiful paint job. So deep, you could dive into it.
My only critique; beware of reflections when taking pic's. The driveway reflection in the paint takes away from it. Get that thing to a studio (JBaz???) and have some pro shots taken.
---
In God, we trust; all others must provide data.
Registered User
Join Date: Jun 2008
Location: Jacksonville, FL USA 32224
Posts: 24
Registered User
Join Date: Dec 2008
Location: phil
Posts: 2
Registered User
Join Date: Jan 2011
Location: colorado springs, co, usa 80817
Posts: 3
Let me introduce "WARRIOR"
Year:2008
Model:ZX14
Eng size:1400CC
Pipes:CUSTOM
Seat:CUSTOM
Wheels:STOCK POWDER COATED
Accessories:SPIKE GRIPS US ARMY ENGRAVED, LEVERS BLADE CUT, 50 CALIBER CUT FAIRING BOLTS, CUSTOM CUT AND STITCHED SEAT, CUSTOM US ARMY THEMED PAINT, CUSTOM CUT KICK STAND, FRAME COVERS, PERO MOTOR ROTORS, EXTREME BRAKES, PCIII CUSTOM MAP, 200MM REAR TIRE, CUSTOM US ARMY CUT 9" EXTENSION, SMOOTH GAS CAP,CUSTOM CUT SIDE MOUNT LICENSE PLATE, FRAME AND AXLE CAPS, CUSTOM MADE EXHAUST AND SO MUCH MORE
And the story: Well it started off as just to do a mural on the tank of a military scene and just could not stop. Started out Atomic Silver added House of Colors black and yellow and the murals started. Every mural says something about my Military career. Bike has been a feature at many Veterans parades, shows and so on. Will be seeing in magazines coming soon......this is just my way of saying thanks to all that serve to include myself and my son. Oh yeah its a rider over 6,000 miles in two months. Bought new end of last year and started project within a month and finished in a month all work done by myself and David Meyers from Diamond Auto Craft in Pueble Colorado.
Thanks to:
Derek Marino
Diane from Pero Motorsports in Denver
Chromed Out Frame Covers
NYC Parts
Hammer Grips
Fuqua Cast and Dies
and everyone else that has made this master piece come to life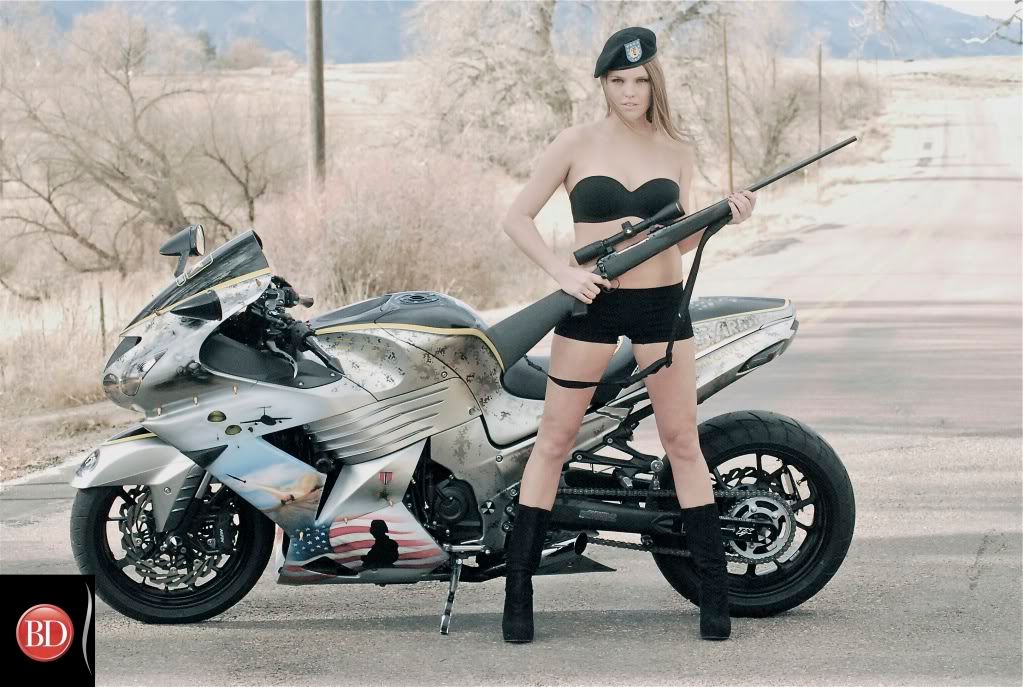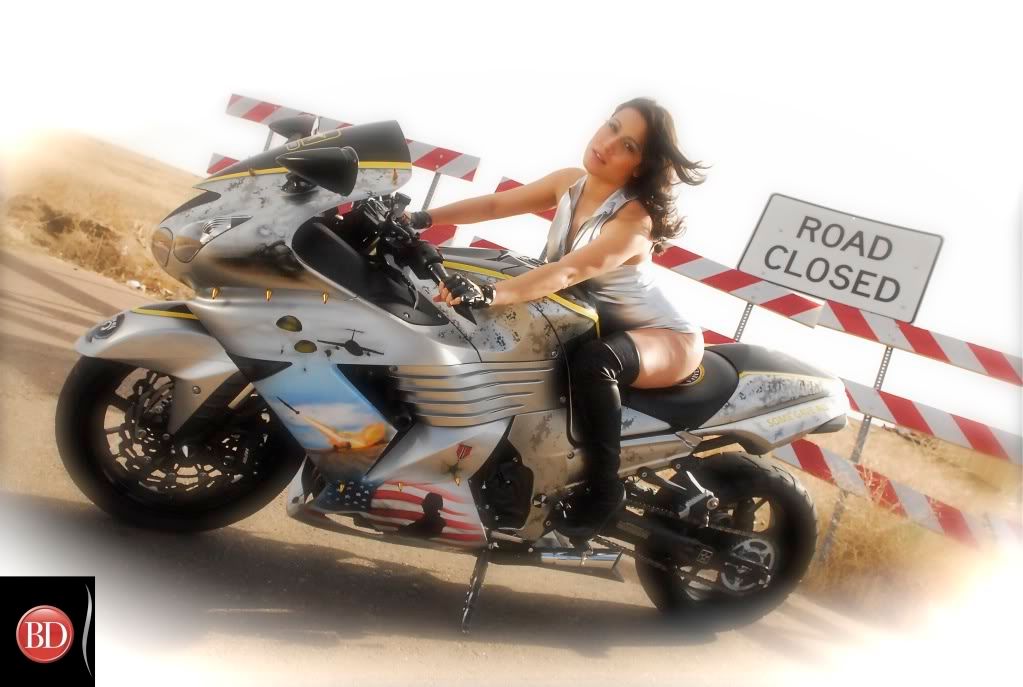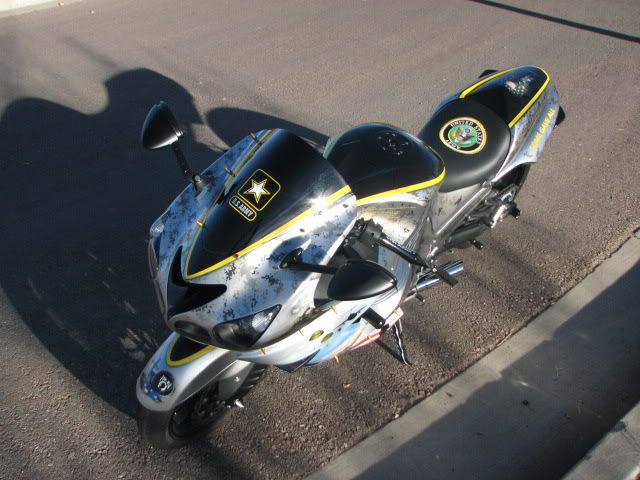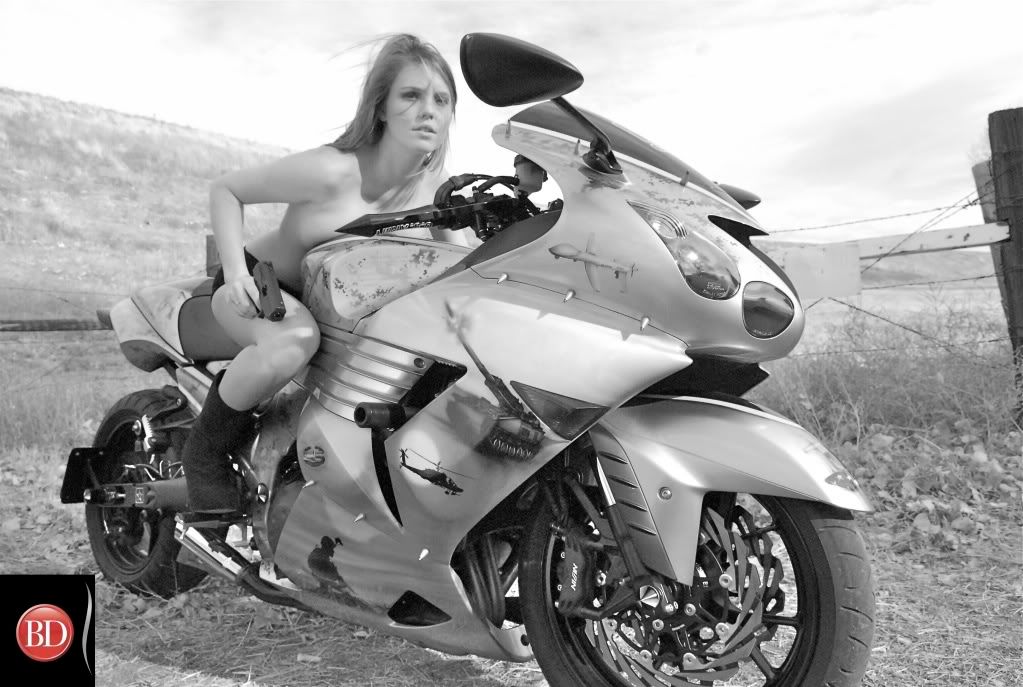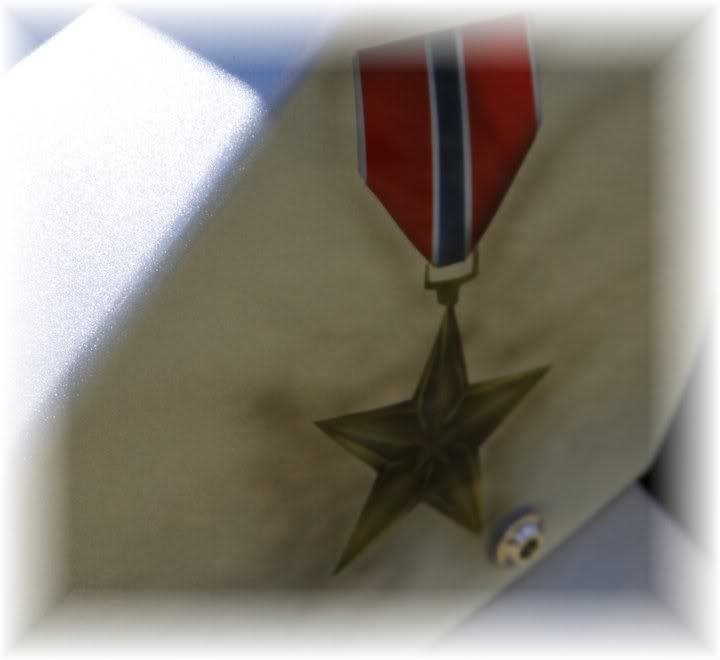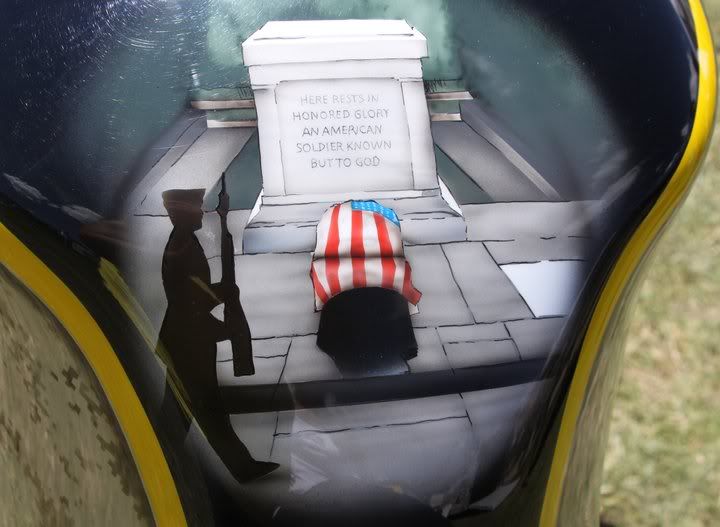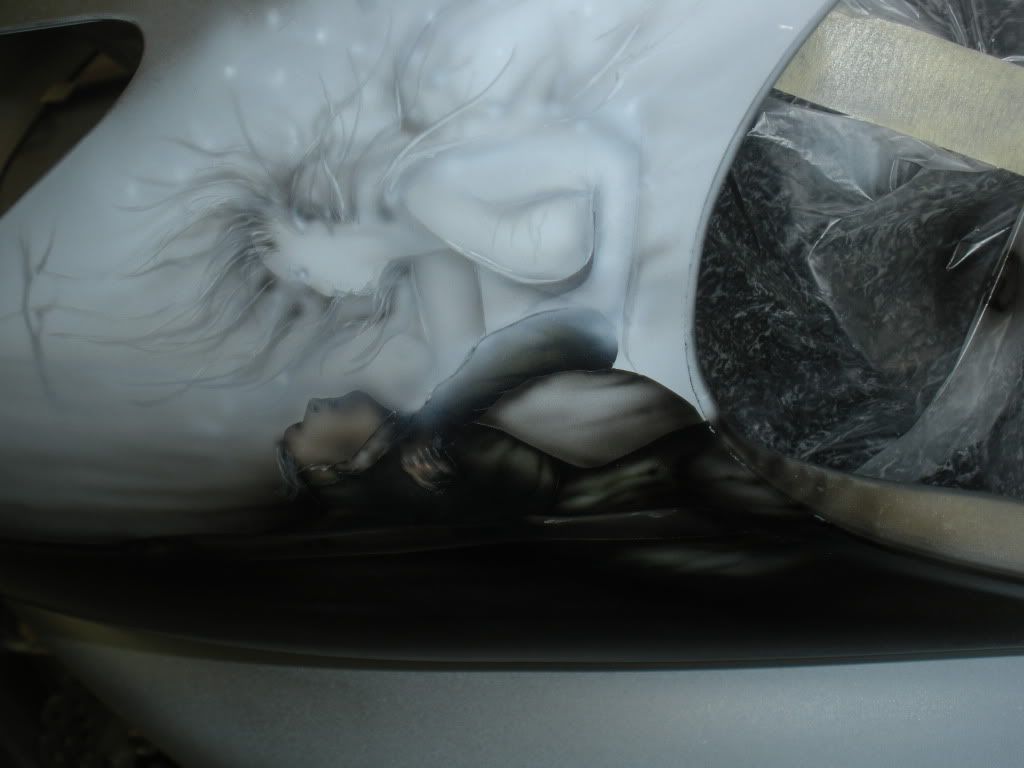 Registered User
Join Date: Jul 2011
Location: Lowell, MA USA 06102
Posts: 2
Quote:
heres my entry.
here she is, the sexy hotness
mod list:
2004 honda cbr 1000rr WSBK Hann Spree race replica
pc3-usb, custom dyno tune 161.4whp 81.7wtq, arata titanium slip-on, bmc race filters, gutted air intake, 2006 velocity stacks, DID erv3 520 conversion w/driven sprockets 16/44, nicky mod (race front sprocket powder coated black), speedo healer, accumen digital gear indicator, vfx intergrated tail light, watsen 1st gen flushmounts, solo seat cowl, carbon fiber heel guards, 2007 rear shock, pivot, and HRC linkage, motovation no-cut frame sliders,puig db screen, 2007 wheels, 2007 320mm rotor upgrade in black trim, michelin pilot power 2ct's with a 55 series rear tire (street set-up), 2007 wheels/2007 rotors w/ power races and a 55 rear (track), vesrah rjl brake pads (front and rear), ATE super blue racing brake fluid, stomp grips, camera mount, custom painted trim pieces. im tires of typing, i think thats all. lol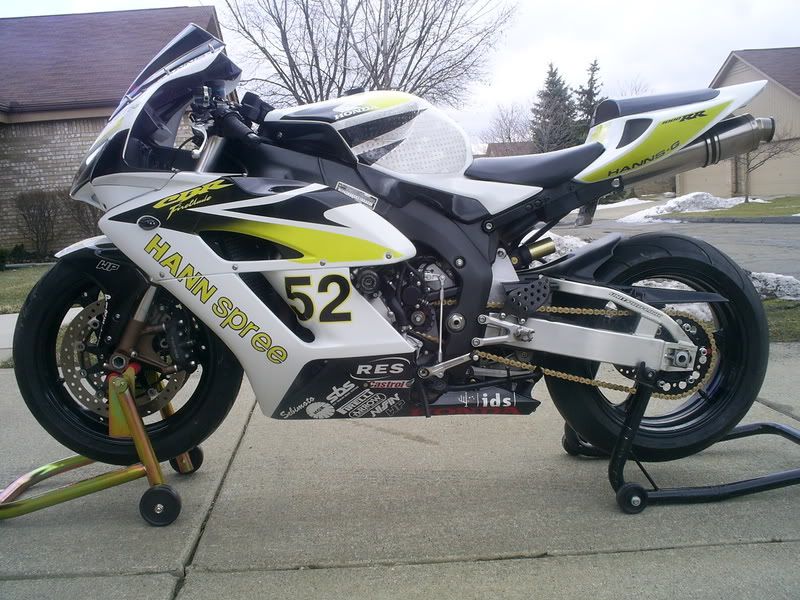 im voting for this ^^^