Join Date: Oct 2002
Posts: 56
three beautiful girls :)
---
all nuzzled in the garage safe and sound, they look so nice....................... dunno if E calls hers a girl but me and J do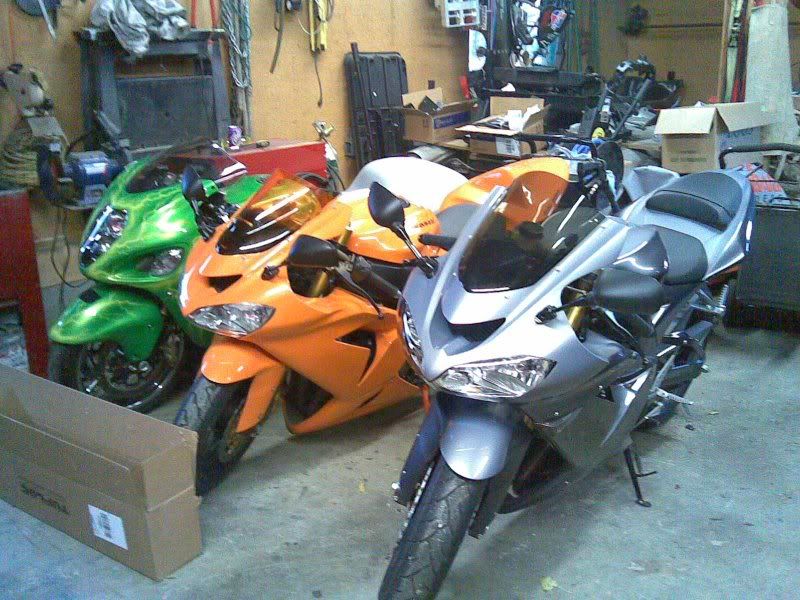 Join Date: Jul 2004
Posts: 160
boy that busa gets around. i used to call her my bitch. butt now i feel dirty
Join Date: Oct 2002
Posts: 56
it's still E's busa
we are just painting it and fixin the fiberglass
Join Date: Oct 2002
Posts: 56
Quote:
Originally posted by HOSEA-4-v6
scottyMIzt
What is a man to do for work in Port Austin?

Are you too young to know of or Remember "Dirty Ricks" bump & paint shop south of Port Austin about 3/4 of a mile or so....?
Yep i remember dirty ricks my sister had a car done there once and he did a shit ass job. I work in pigeon actually, i'm a wireless technician for a high speed wireless broadband internet company. There is hardly any work in Port Austin
Join Date: Apr 2006
Posts: 134
Aww........Those Ninja's do look pretty damn good.
Join Date: Oct 2002
Posts: 56
nice to see another kawi guy on here
i do miss her already tho
wish i could ride mine more but it's gettin too damn cold