Join Date: Jul 2005
Posts: 72
!!!! My Bike Has Been Stolen !!!!
---
If anyone happens to see a grey Honda Hawk GT (some of you know it, but for those that don't, I'm attaching a pic) around, could you please let me know. There are few of these bikes around, and not that I expect to see it in one piece again, there is always a slim chance. It was stolen sometime between late tuesday and sunday morning. Unfortunately, I can't narrow it down closer than that, as I just found it gone this morning. Depending on how this turns out, there is a good chance I won't be riding at least till next season, but we'll see.
This pic is in stock form, there have been minor visible changes, but this is basically what it is. Thanks guys.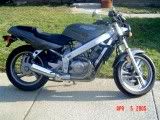 vin - JH2RC3106JM002450
Death to all scum-sucking bike thieves!!!
Sorry for your loss.
---
In God, we trust; all others must provide data.
Join Date: Oct 2005
Posts: 2,442
Read this and reminded me of a post I saw a few days ago.
Here
Hopefully this is helpful. Like Cookie said, DEATH TO ALL OF THEM! Sorry to hear about it. I hope it turns out alright in the end.
Sepias
Join Date: Jul 2002
Posts: 2,622
where was it stolen from???
your house?
What city do you live?
Join Date: Jul 2005
Posts: 72
It was taken from my APARTMENT in Clinton Twp. (Harper/Metro Pkwy area)where it was CHAINED AND LOCKED instead of in my parents garage where I was supposed to unload it, but it was EASIER to bring it home for just the few days till I would have it street legal again. (Was just at the track, my plate wasn't even on it)
So I add up the key facts,
apartment + only a chain and lock + my being lazy = I'm pissed at myself because I made it too easy on the low lifes.
Everytime I see a bike parked in an apartment complex I cringe... I once watched four homies lift a full-dresser Harley off the 3' post it was locked to, and put it in the back of a van in the time it took me to pick up the phone and dial 911.
Join Date: Sep 2002
Posts: 1,071
Is it covered with insurance?
Join Date: Jul 2005
Posts: 72
Quote:
Originally posted by hellsnat
Is it covered with insurance?
That is still up in the air too. I have only ridden it once this year, at Grattan. I have called and put full coverage on it to start riding it this year on the road, but I haven't even recieved the bill to make that payment yet. The thing was still in track prep, not even street legal. No mirrors, all lights and signal fuses removed. My plate is still in my tool box. I don't think it'll be covered, but I have to call tomorrow and get that news.
Race trim shouldn't affect theft coverage. If you'd crashed it on the track, then I could see your insurance company walking.

The minute you arrange your insurance, you should be covered by a cover note. Generally, you then get a couple of weeks to pay the premium. You'll have to pay the premium before they'll let you make the claim.

At least, that's how it works over here... Good luck.




---
In God, we trust; all others must provide data.
Join Date: Oct 2002
Posts: 1,982
I hate these threads!!! I hope your insurance works with you b/c you're almost guaranteed not to get your bike back.

-=bmacd=-