Join Date: Feb 2005
Posts: 1
Kawasaki ZX-12R
---
Hello all, this is my first post! WOW!

Now, on to the question.

I have been riding since I was 16, didn't even get my car license untill I was 18, so all I had for two years was a motorcycle, and I drove it ALOT. I started out on a Honda Shadow 750ACE, then a '95 honda F3, which I got ran off the road on so I replaced that with a '98 Honda F3.

My question is really about how good of a sport tourer the ZX-12R is, I know the earlier years had a little easier ergos, and I will be getting a used one - so you can comment on which really feels the best for a man of my stature(5'10"). And I was also curious as to if I should make the jump from 600, to 1200. As I said i am a very experinced rider, even if I have only been riding for 4 years.

Also, the wreck dinged me up pretty bad when I got ran off the road, had to have major shoulder surgery, and my back and such arn't that great because of it. So this is one reason I was looking at a more ergonomically pleasing bike, but still something I could hit the curves with good. Also I really want to do some distance riding. Cross country even.

Thanks alot,
Will
Join Date: Apr 2005
Posts: 2
---
Yo Will...Will here.LOL I think the 12R is a pretty good sporttourer. I have a bad back, but it never really bothers me when I ride. I'm 6'1". If I'm out for more than a few hours, I'll just be a little stiff afterwards, but I break up the trips, so it's not that bad. As far as the cc jump, you say you're experienced, so I believe you, I'll just say respect the power...and 5th/6th gear will separate you from a bunch of people.
Join Date: Dec 2001
Posts: 11
I just returned with my 12, 1200 mi in three days, definately not as easy as my Concours, but a ton a fun.
Join Date: Nov 2006
Posts: 6
I have a Y2K ZX12R and find it to be a very good platform for SPORT touring. I am 6'3" 260# and find it to be a comfortable bike for 500-600 mile days.
Currently I have a Corbin seat on it. Before the Corbin, I was good for maybe an hour before the oem seat was giving me the burn.
I also added a ZG double bubble and find it to smooth out the airflow.
I did have heli-bars and a set of peg lowering brackets on it which made it a very comfortable ride, but decreased its sportiness a bit.
The main reason I removed the lowering brackets is they interferred with the Yosh RS3 Duplex system I installed. If and when I go back to oem exhaust the lowering brackets will be reinstalled.
All the 12R needs iss for you to add a tank bag, a pair of saddlebags and a rut sack and you are ready for a couple of weeks of fun!
Join Date: Nov 2006
Posts: 6
This photo of our 12R's was taken at Wildwood CA, on Highway 36. We were on a 2 week trip at the time.
The 2 closest12's with the large luggage setups are from San Diego. They are using the Venture Rack system with Eclipse p38 bags. The black 12 from Salem OR, and is using the Eclipse p38 bags. My 12 has Oxford saddlebags, and a rut sack on a home made luggage rack.
Hope this will give you the urge to tour your 12R.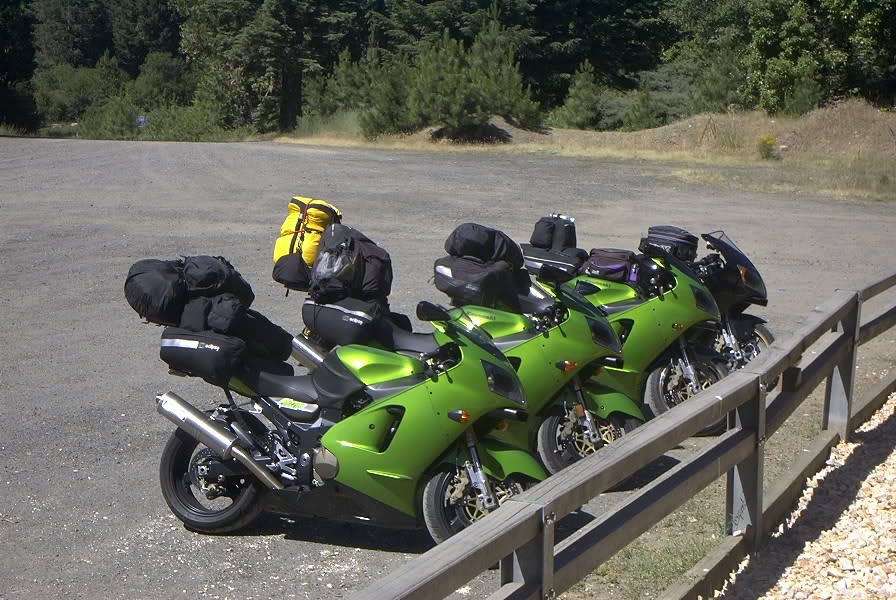 Registered User
Join Date: Apr 2013
Location: usa
Posts: 45
Kawasaki ninja is one of the popular sports bike. People always like kawasaki sports bike and they enjoy thier riding on this bike. You could get some nice features in this bike but it is not fuel efficient as well.
---
www.sportbikeworld.com