Join Date: Sep 2009
Posts: 6
Flammed Gixxer project
---
I Figured For some reading material for some I would create a progress thread of my 2002 GSX-R Project.
I recently Purchased a 2002 GSX-R 600 and it is a great bike. Only problem is that it has been dumped on the right side even though the damage isn't to bad it does have a hole the size of a quarter in the right fairing along with some scratches. all along the right side.
I have also been taking an Airbrushing course and figured i would put the two together and make a decent show bike.
Here is the bike as I got it only a few weeks ago.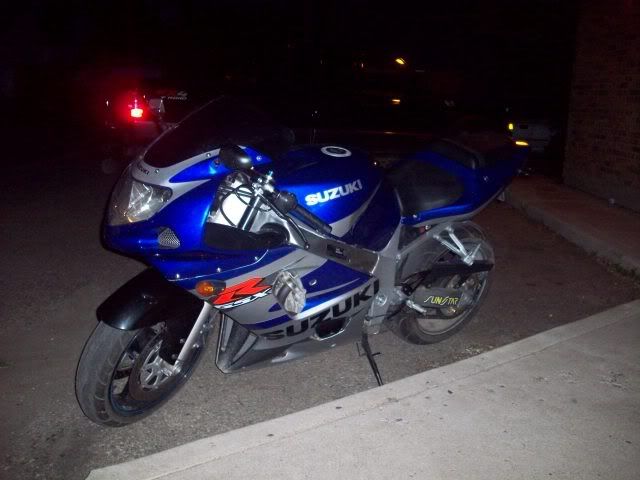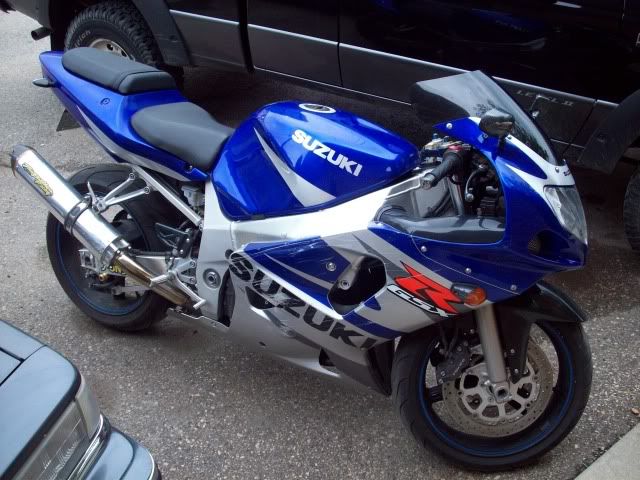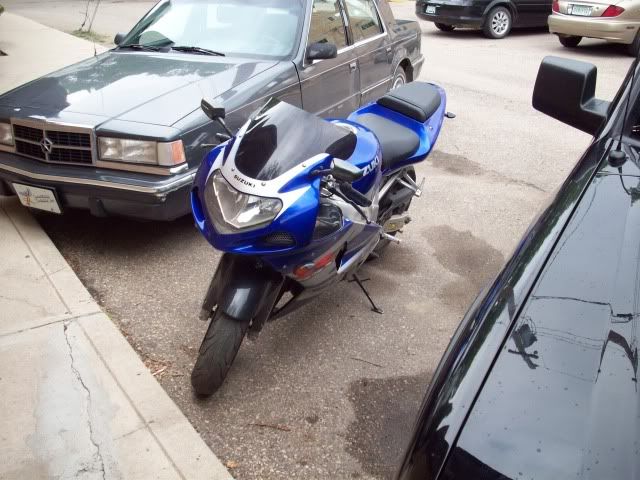 Join Date: Sep 2009
Posts: 6
I have never had a lot of chrome on my Motorcycle in the past but I figured I would change that up for this bike since I am already planning on replacing the Mirrors, hand grips, bar-ends, and other pieces anyway. I figure I will try to chrome as much as the bike as possible (this will take me a few years but will slowly convert parts to chrome over time).

The plans for the body are to completely sand all the panels and paint the bike Black and do blue (realistic style) flames on the bike. I don't want the flames to be to busy but will have them start at the front (Duh) and lead to trail-off flames on the back of the bike. I plan to airbrush a skull made up of flames on the gas tank and also something on the Windscreen but I haven't quite decided what yet. Again, I don't want the paint to look to busy but do want it to be very eye catching.

I will try to keep the thread updated as much as possible but won't actually start painting the panels until November so there at some point there will be some big delays in updates.
Join Date: Sep 2009
Posts: 6
Taking the bike apart:
Man These things are UGLY without fairings on them.....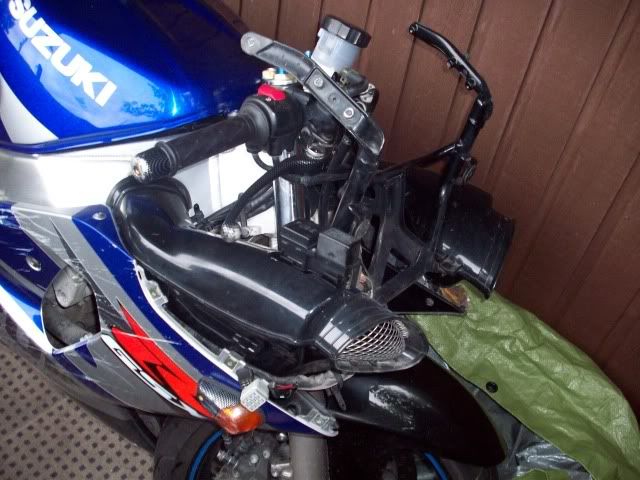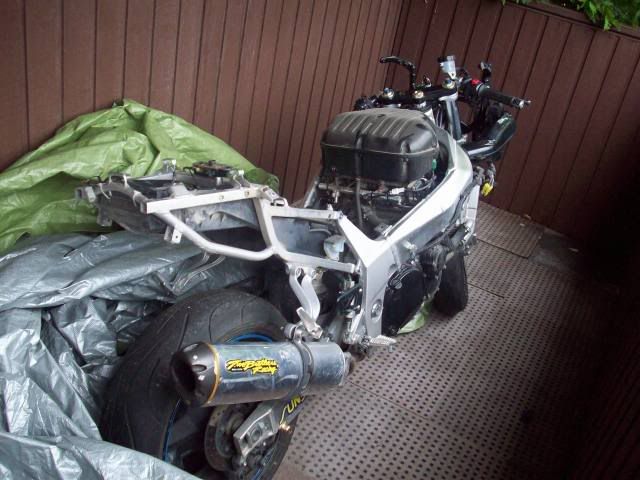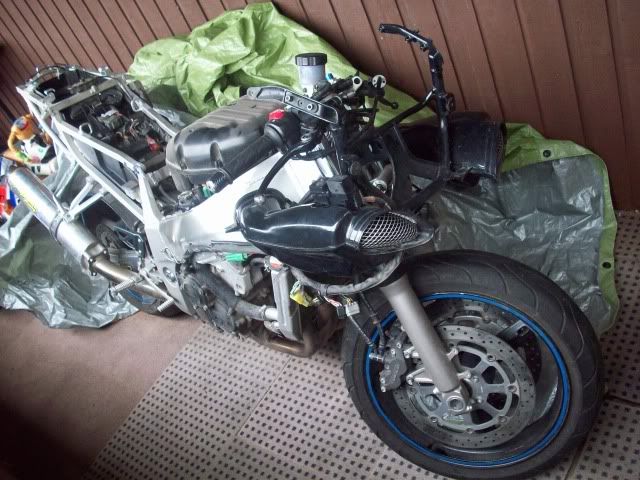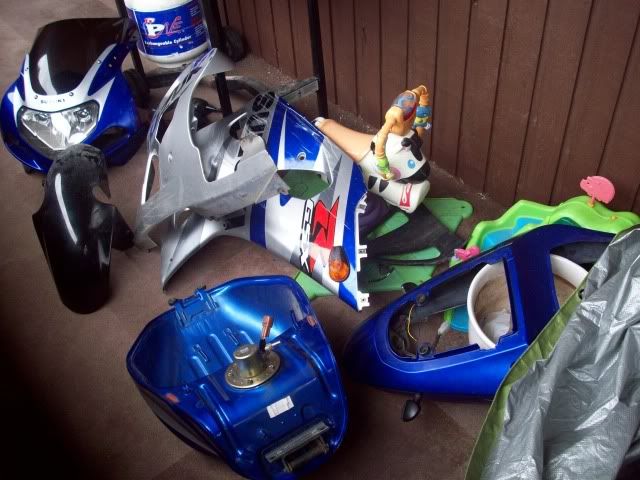 Join Date: Sep 2009
Posts: 6
This is the somewhat the style of fire and color of fire the bike will end up having on it but with more of a gloss finish on it. Think more clear coat.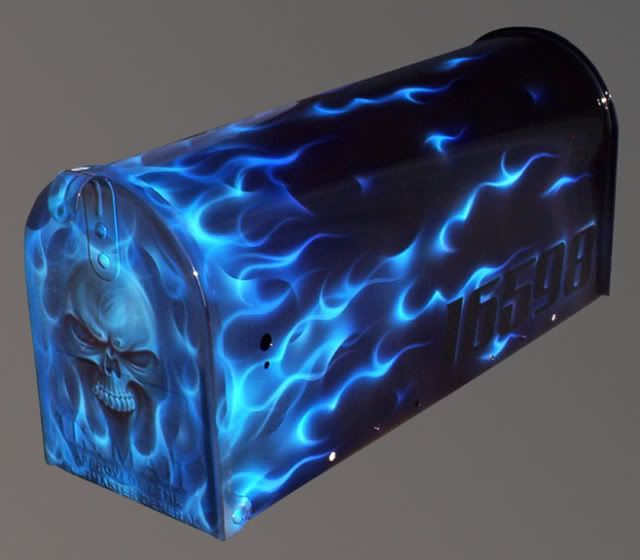 I see Jester left some of his toys over there from his last play date
Seriously though, I'm interested in seeing how she turns out. Looks like a good project.
---
"The only difference between death and taxes is that death doesn't get worse every time Congress meets."
-Will Rogers
Strength and Honor
Join Date: Oct 2002
Location: Central IN
Posts: 6,144
I gots no art skilz, so that'll be sweet
---
SportbikeWorld Supermoderator

Dragging knee is for the track, and dragging tail is for the lot. --Kane Friesen

When you're in a car, you're watching a movie; when you're on a bike, you're in the movie. --Robert Pirsig

Identity theft is not Fun