Join Date: Nov 2008
Posts: 22
I just fell in love..
---
I just fell in love with the looks of a streetfighter bike...

is it hard to make your bike into one and what are the draw backs besides more wind resistance?
Join Date: Nov 2008
Posts: 47
Depends on which bike you want to alter & how much $$$ you have, you can go OTT if your not careful. Have to admit I
the look of most of these bikes. Make sure you get the work done by someone who knows what there doing, better still if a friend can recommend someone, unless you intend to do yourself, either way good luck & keep us posted on what you decide.
Join Date: Nov 2008
Posts: 22
Isn't a Streetfighter bike like a bobber?
Just parts like the shell that are stripped? plus mounts for the headlights etc?
I'm looking at "ghostriders" bike, all I really see are parts that are taken off unless im missing the whole point?
http://www.kikman.de/Pix/Ghostrider.jpg
Join Date: Nov 2008
Posts: 47
Join Date: Mar 2004
Posts: 8,798
To make a streetfighter, you usually rip off all the fairings, and the clip ons, put on a set of bars, and a different headlight. If you want to get all into it, chop the subframe and make it a single seat thing (those are really big in europe, I dont know why). You can finish it all off by jacking the rear up abit (affects handling, makes the bike more twitchy) and then getting every silly metal cover you can get your hands on.
A headlight conversion is about $200-$300. Consider another $400 for handlebar conversion. $150 or so to jack up the rear. Don't know about redoing the subframe, but that looks expensive. And, you completely ruin the resale value of your bike, at least you would here in the states.

You could just look into something like a z1000/z750 or a ducati monster




Factory streetfighter
---
---
"Fat, drunk, and stupid is no way to go through life son." - Vernon Wormer.- Dean, Faber College.
Join Date: Jul 2009
Posts: 6
The first link in this one a concept bike designed by Dodge. I don't remember exactly the details but I do know the bike. The magazine said it was the engine from the Viper and the wheels (four of them) were independent of the other one.
http://www.seriouswheels.com/2000-20...d-1024x768.htm
much squid like /\
---
Last edited by DevilDawg; 07-05-2009 at

05:13 PM

.
Join Date: Sep 2009
Posts: 6
My sv650s started as a fully faired bike and I decided I liked the "streetfighter"/naked bike look, so here is what I did:
From this: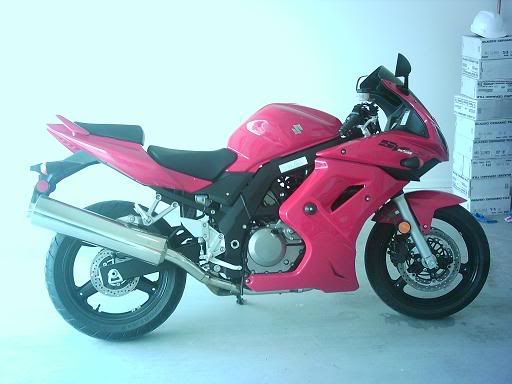 to this:
after selling all the stock fairings, headlights, and other stock parts I didn't need anymore, I ended up making a couple hundred bucks converting my bike.
Registered User
Join Date: Aug 2010
Location: tampa, Fl 34653
Posts: 9
That's sweet, it looks much better, Hey do you know where I can get some good hand grips?? I have a 750 turbo GPZ