Join Date: Aug 2007
Posts: 43
Fender Remover kit?
---
It is probably one of the easiest, coolest and most popular cuztomizations but I am wondering in anyone can tell me what I am looking at for prices for a fender romover kit for a 2007 Kawasaki Ninja ZX6R.

Thanks.
Join Date: Apr 2007
Posts: 29
I assume you mean a fender eliminator kit or undertail kit. Seeing as how the 2007 ZX6R has undertail exhaust your pretty much just buying a signal and plate relocator. It will probably be in the neighborhood of $100-200 but could be more. I haven't really look at the rear of the bike but like most other new bikes you should be able to just make your own plate holder by removing the stock plastic one and using L brackets and mounting it that way. Then all you would need to do is by a tailight integrator kit or another tailight that is already set up to use signals since those are LED taillights.
Strength and Honor
Join Date: Oct 2002
Location: Central IN
Posts: 6,144
---
SportbikeWorld Supermoderator

Dragging knee is for the track, and dragging tail is for the lot. --Kane Friesen

When you're in a car, you're watching a movie; when you're on a bike, you're in the movie. --Robert Pirsig

Identity theft is not Fun
Join Date: Sep 2005
Posts: 66
i didn't spend a penny on my eliminator, i bought a intigrated tail-light, removed the unsightly plastics, and stock blinkers, used a grinder to cut off the metal bracket welded to the underside of the exhaust, and found two screws not being used for much up enderneath the tail a bit, i measured out the holes on the plate, drilled the holes, bend the plate a little but not enough for the tire to rub under compression, and installed a small led light that shines on the plate at night, ok so i spend like 12 bucks on the small lights, they wired right into the factory tag light wires, and it turns on with the bike, though i may install a switch soon since it doesn't need to be on in the day time. i'll attach some picks below.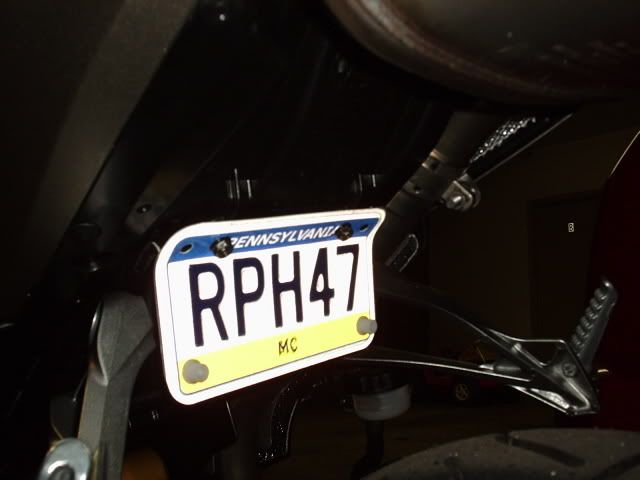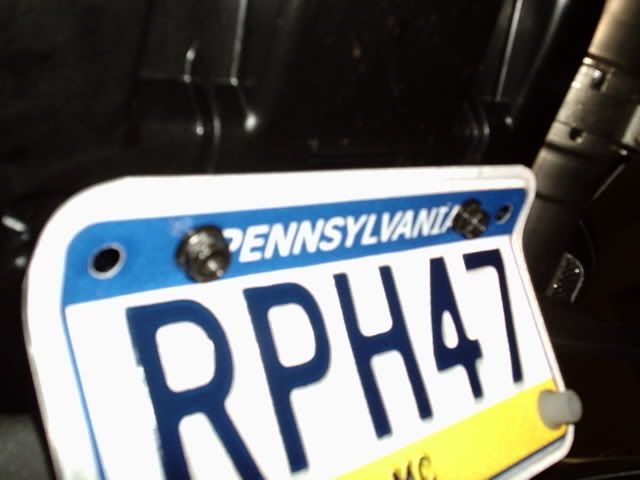 give the guys at sport bike track gear a call (they are a sponcer here), or go to their website sportbiketrackgear.com. im sure nick, brian, or the others can hook you up on a great deal.
dave
---
_____________________________________________

Redline Superbike Member

2004 Honda CBR 1000rr WSBK TenKate Hann Spree race replica



To view links or images in signatures your post count must be 10 or greater. You currently have 0 posts.

Join Date: Apr 2005
Posts: 2,890
Just relocate your plate and buy an integrated tail light kit for your turn signals. They can be found on ebay for about $79 usually. I bought the VFX kit for $210 and screwed my plate to the back side of the battery box.

It's all how you want to do it.