Join Date: Aug 2007
Posts: 1
New member with rear tire compatibility question
---
Hello all. New here with a tire question.
Below is my flawless 1999 pearl yellow thunderchicken along with some bikes from my other church group members. It has 5750 miles on it, and is bone stock other than the twin Two-Brothers exhaust cans, and the color-matched spokes and inner wheels which I powdercoated myself (watcha think?)
Anyway, here is my question. I don't ride the twisties very hard...I prefer straight-line acceleration and the occassional wheelie, but thats about it. My tires are original to the bike, and I need new ones.
I really like the look of a wider rear tire, so I was looking into the 190/50ZR17 to replace my stock 180/55ZR17, which I understand can be done, but here is my delimma.
Another church member has a new Pirelli Diablo 200/50ZR17 which he wants to GIVE to me if it will fit. That should be a very sharp looking tire, but what I need to know is this -
Will it fit my stock rear rim?
What is the width of a stock rear SuperHawk rim?
Will my chain clear a 200 tire?
Will changing from a 55 to a 50 affect my speedo?
Sorry if these are dumb question, guys, but I'd hate to turn down this tire if I dont have to.
Todd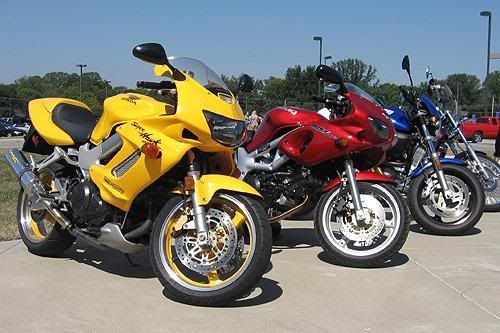 I don't really have an answer for your questions and I'm sorry if this isn't helpful, but this is my opinion.

There are certain things that are up to personal taste, for example slip on exhausts, they won't harm the performance of your bike in a very noticeable way, so changing the sound of your bike is up to your tastes, however changing the size of your rear tire from a 180 to a 200 will dramatically affect the way your bike handles in a bad way. your bike was designed with that size tire and it handles best with it. that kind of a change will make your bike feel 100LB heavier on the turn in an won't do you any good on the straits. all you can gain from it is the look of a west coast copper rear end.

but hey if it fits try it and see. (sorry I can't tell you if it will fit or not.)
---
I just really want a bike with a turbo, because their are those times when you pull up too a stop light next to a cop, and I think a really loud PPTTTSHIIISHHHHHHHH would make his day. =P
Re: New member with rear tire compatibility question
---
I looked at a 190 when I put new rubber on the back of my bike recently.
Here's a link
to the thread. Be sure to read the article on the second page.
---
In God, we trust; all others must provide data.