Bolt on can for '01 ZX6R
---
i want to replace my stock can with something a little bit louder but not a cop magnet!!! Any suggestions for an '01 ZX6R????
can?????
---
No takers on this one???????? i'm considering the Two Brothers M2. Any thoughts????
Registered User
Join Date: Feb 2007
Location: Yonkers,NY
Posts: 153
any aftermarket exhaust is usually going to be significantly louder than stock. Cops may harass you even if you don't have one, the exhaust just gives them another reason to stop you. Maybe you can find some audio clips of a certain exhaust for your bike. From what i've heard D&D pipes is one of the loudest, two brothers I have no idea about.
It seems that in Denver, CO sportbikes are not that big of an issue. Maybe it's because there are plenty of twisties up in the mountains to keep us busy. Plus if you've seen the conditions of the roads here
..... There are some pot-holes so big they deserve their own zip code!!!!!!!!!
Ive got a Yoshi rs-3 on my 01 zx-6r and I love the sound and never had the cops harass me about it.
I just found an Akrapovic for $376 delivered... I can't pass that up and will get it next week. I'll post some pix and my thoughts after i install it.
Registered User
Join Date: Feb 2007
Location: Yonkers,NY
Posts: 153
yea that exhaust would definately complete the look of your bike. what kind did you go with?? carbon fiber,titanium?
---
Last edited by streetbreed22; 02-28-2007 at

05:08 AM

.
It's carbon fiber black or titanium. I'm leaning towards the black. I'm ordering it Thursday so I still have a few days to decide.
changed my mind!!!!!!
---
So i ended up going with a micron............ it sounds super sweet and the bike gained some low-end too. A stage 1 kit is next!!!!!!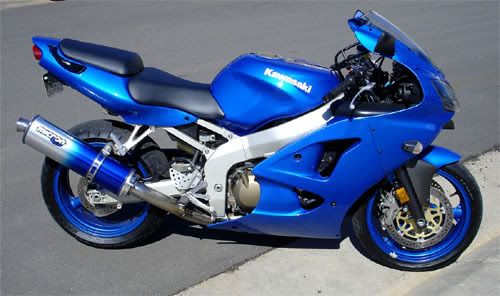 Registered User
Join Date: Mar 2007
Location: Atlanta, GA USA 30017
Posts: 38
Wow that bike is blue. I'd throw some black or silver graphics on there but that's just my opinion.