Join Date: Sep 2005
Posts: 462
Ah, twisties :)
---
Today was my first day on real twisties. I took a ride to the San Bernardino Mountains. That was some of the best fun I've had in a while!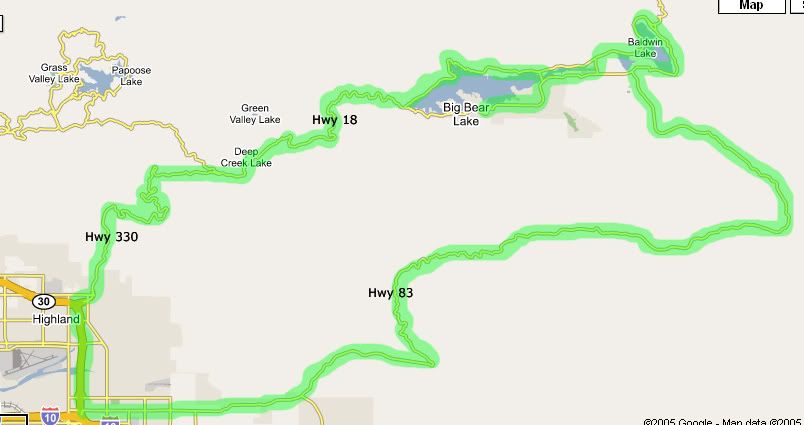 I took off around noon today, and headed down Hwy. 38 towards Big Bear. The ninja had a semi-hard time passing people going uphill, but it did it none the less. Some guy with a chick on the back on a gixxer rode with me for a bit, but abruptly passed me up. I soon found out that that cages get in the way... After a while, I came up on a goldwing, and rode with that guy for a while. When I got to the first town-ish place, a biker pulled into the street and got behind me. So here I am, riding in a group of totally unknown people. Eventually, the goldwing moves over into one of the turnouts and lets us all pass. After the goldwing is a stubborn cage who insists that we stay behind him. After a while of unsuccessfully trying to pass him, my unknown riding buddy makes a left and goes into some camp-looking place, leaving me by myself again. I eventually pass him and ride on, waving to all the cruisers and sportbikes I see. My butt starts getting sore, so I decide to take a short break. So I stop here.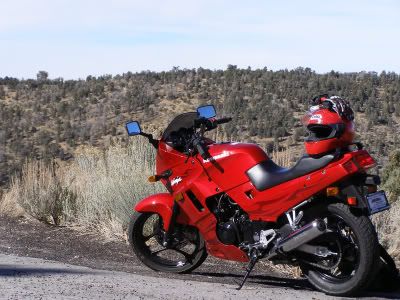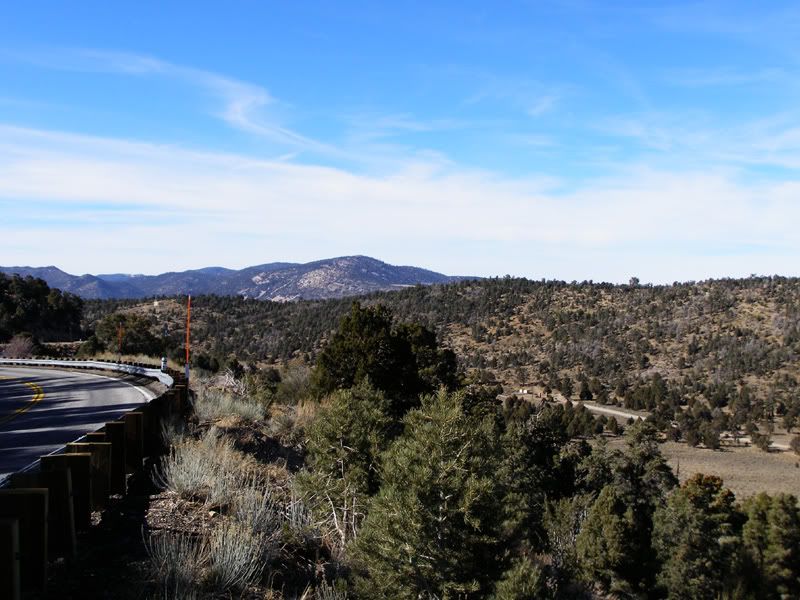 After a while, I finally arrive at Big Bear. I drive around the lake, and get lost in the side streets. I pulled into a vons (which, surprisingly enough
, had a starbucks in it...), bought a hot chocolate, and got myself orientated.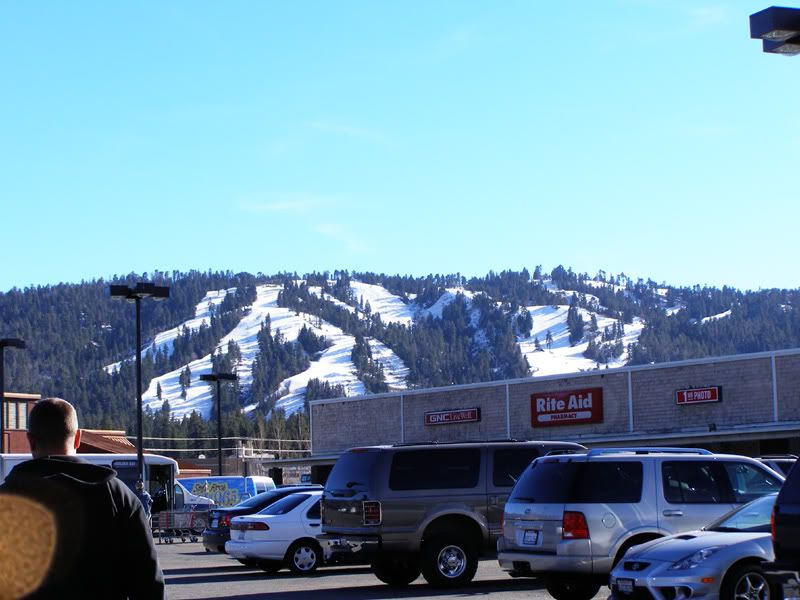 Once I left, I headed towards Hwy. 18 to Running springs. I was going on the road south of the lake, which was closed, so I had to backtrack and go to the north end. There, I ran into a bunch of cages tailgating grandma. The roads were semi-curvy, and there were no legal passing opertunities (broken center yellow line). So, when a straight patch of road came up, I made sure I had enough room to pass and no cages were coming, and passed em one by one. After passing grandma, the road was nice, curvy, and empty (for a while, anyway). I got to lean the ninja pretty far over (for noob standards anyway)! Didn't drag any knees (or pegs, for that matter), but my foot, which was tilted on one of the pegs, scraped the ground. What can I say? I had a blast doing it. Anyway... shortly, I came up on the next group of cagers, tailgating grandpa this time. Again, no legal passing opertunities. There were straight parts where I could have done it, but my gut feeling told me not to. Sure enough, after a couple of turns, there was a bunch of cops watching traffic. After the cops, the roads were pretty curvy and hilly, so I wasn't able to pass. A few miles later, I decided to take another break and snap the scenery.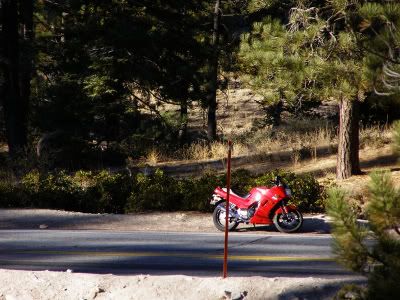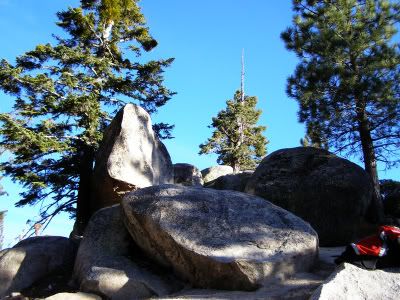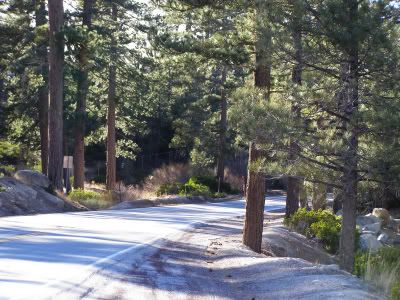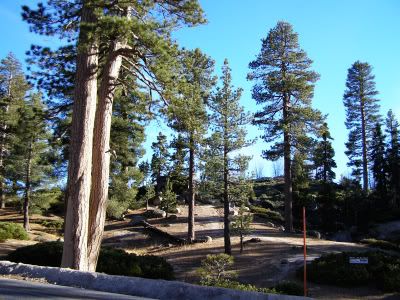 Once I felt rested, I hit the road again. After Running Springs (which is basically where "Deep Creek Lake" is on the map), I got onto Hwy. 330. That's where traffic really got dense. Everyone was going down the mountain. There were some super cool twisties on that part, but I wasn't able to take advantage of em because of the cage traffic which was following all the reccomended speeds for the turns. Boooring. So I just enjoyed the absolutely beautiful scenery. Once down the mountain, I ended up back in Redlands where I started.
This isn't a rant, or rave, or useful info for anyone (unless maybe you're stalking me...). I just wanted to share the joy I got out of taking my new, 3 week young ninja into the scenic twisties. I loved it! Coming home, I felt refreshed, uplifted, and motivated. On the road, I forgot all my troubles, all my chores, all my to-do's, basically everything, and enjoyed flicking the red monster left, then right, and with a twist of the wrist, flew it up to the next right, then left, then wrist twist again. I would have taken more pictures, but I was having too much of a good time riding.
Cheers!
Join Date: Sep 2005
Posts: 462
Damn... photobucket shrunk some of my pics, even though they were all under 500K. Sorry about that.
Join Date: Jun 2000
Posts: 1,991
Hi lateott_156:
Those were some really cool pictures!
Seeing those photos makes me want to take a trip down south to visit the
Tail of the Dragon
for some twisty riding. It's a bit of a hopeful wish with lots of snow all over most of the northern part of the country now.
~ Blue Jays ~
Join Date: Jun 2005
Posts: 2,904
even though thats a ninja 250, it still looks nice. Sounded like a lot of fun. Makes me wish I lived in Cali instead of NC.
Join Date: Sep 2005
Posts: 462
Quote:
Originally posted by JBaz
even though thats a ninja 250, it still looks nice.
Even though yours is a CBR600, it still looks nice.
Strength and Honor
Join Date: Oct 2002
Location: Central IN
Posts: 6,144
Quote:
Originally posted by lateott_156
Even though yours is a CBR600, it still looks nice.
sweeeeeet
Thanks for the detailed post. The pics are great and I'm so jealous of the year-round riding. Sucks to be me
---
SportbikeWorld Supermoderator

Dragging knee is for the track, and dragging tail is for the lot. --Kane Friesen

When you're in a car, you're watching a movie; when you're on a bike, you're in the movie. --Robert Pirsig

Identity theft is not Fun
Join Date: Aug 2005
Posts: 9
That looked like a lot of fun....NOthing around here to test out my Ninja. The ninja is a perky little bike that likes the REVS. Rev it I do.
Great pictures + details
Thats gotta be one of the most beautiful post's I'v seen. I liked the detail + pics. Nice bike too. Enjoy the riding!
---
Guess I should change my name, not a poser anymore.
Join Date: Sep 2005
Posts: 462
Quote:
Originally posted by Blue Jays
Those were some really cool pictures!
Quote:
Originally posted by kanwisch
The pics are great
Quote:
Originally posted by phoang124
Great pictures + details
Quote:
Originally posted by Big_Poser
I liked the detail + pics.
Wow, If I woulda known that so many people like my pictures, I woulda taken more!
Thanks everyone
Mate, sounds like you had a great day! Nothing wrong with getting out and about on a 250, hey? Great pic's too. I'll have to start taking my camera with me on rides, so you guys can see my part of Australia.

BTW, how many miles did you do?




---
In God, we trust; all others must provide data.