Join Date: Jun 2005
Posts: 2,904
Motorcycle Projects
---
Well... After a week or two working on the R6 project with my friend (
http://sbw.sportbikes.com/showthread...threadid=56557
), I wanted another bike as a project bike.
So, I found this 2004 Honda CBR600 RR for $2000. Bike has less then 3500 miles on engine and runs beautifully. Frame untouched, subframe straight, forks straight, brakes good, and engine cases and block are all good.
The Bad: Front stay bar is broke in two, needs new front upper cowl piece(s), new headlights, new left handle bar, new left foot bracket, needs new rear tire and various small things that I've yet have to account for (pretty much cosmetic shit).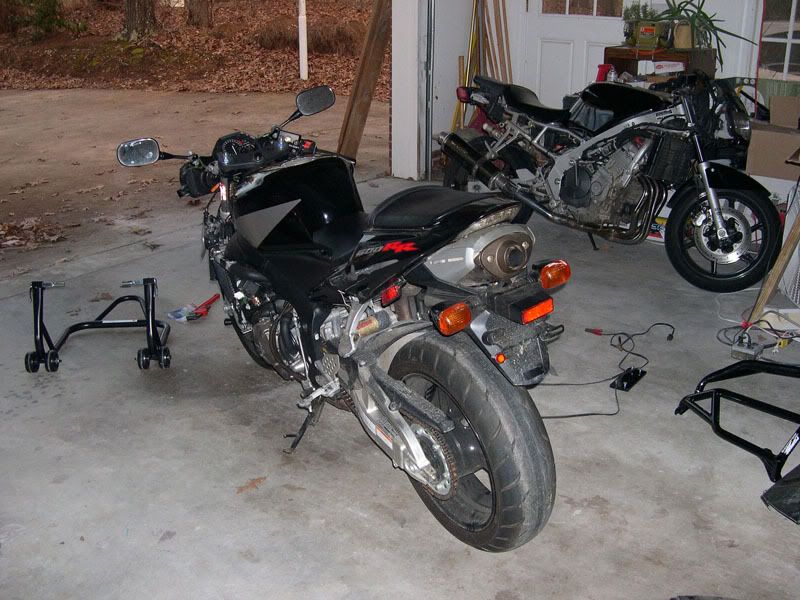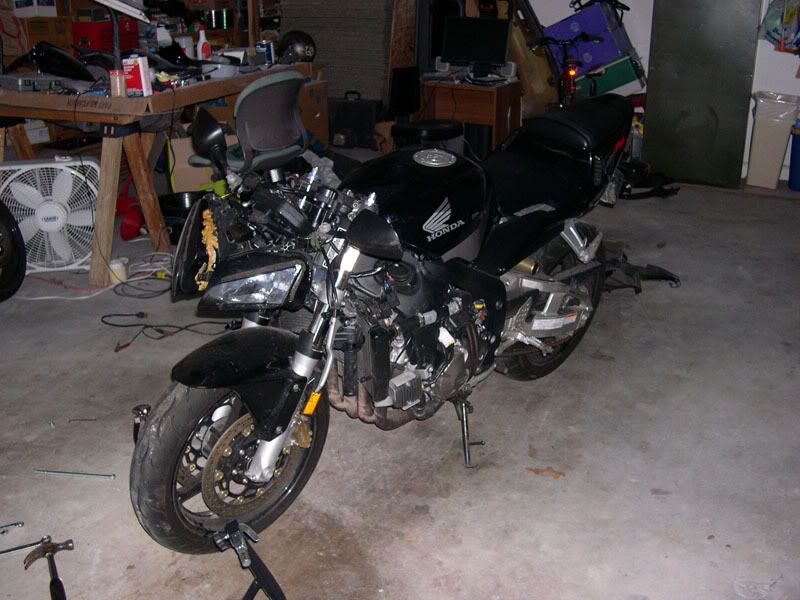 ---
Last edited by JBaz; 02-20-2006 at

03:32 PM

.
Sounds like a good deal, but aren't there any wrecked literbikes as well? I'd guess they make great project too.
Join Date: Jun 2005
Posts: 2,904
wrecked liter bikes still go for 4 grand. I was going to get an 03 gixxer 1k for 4300, but I'm sure that would have killed me. I'll stick to 600's for another year.
Join Date: Jun 2005
Posts: 2,904
Join Date: Jun 2005
Posts: 2,904
Ok, bought all the parts right now.

left front foot peg: $34.95
Headlights: $157.50
faring bracket (front stay bar): $51
left rear foot peg: $30
left clipon handle bar: $59.95

That comes out to $333.4 + shipping for new parts. Add the rear tire ($187.23) and I've spent $520.63 so far.
Join Date: Jun 2005
Posts: 2,904
Finally got all but one part in this week (left handle bar). So I started some work on the RR.
My bikes. As you can notice, no more huge globs of glue on the headlights as everything up front is replaced. I got a new front farings as well, but in the works of sanding it down and repaint. I forgot to pick up some plastic weld so I couldn't do much cept fiberglass some stuff. I think it looks evil without the farings IMO.
Honda's 03+ RR bikes are radically designed now that the air box and gas tank are split instead of the usualy gas tank ontop of the airbox. This way, you don't need to take the gas tank off (which is a pain when you have a full tank of gas) to change the air filter (which is a snap now). Took 15 mins to get access to the filter and replace the stock one with the KN.
Since I'm still waiting on the handle bar, I decided to JB weld it for the time being. I had zip ties on there, but they kept shifting around.
Also, upcoming is yet another motorcycle project. A 2004 Suzuki GSXR 600 that needs some lovin'.
This bike needs some serious TLC compared to the RR. Needs a lot more parts, but I'm certain the cost of the parts should be around 1,000-1500 or so. What it needs are front rotors, upper stay bar, headlights, gauge pod, front faring, side farings, lower side farings, new rear rim, and left side pegs and brackets. Cost of the bike should be 2300 + 125 for shipping.
Join Date: Dec 2004
Posts: 317
JBaz, I so envy you.
I wish I had the ability to do that type of stuff. I'm so not mechanically inclined. It's A labor of love rebuilding those bikes, and then when you.re done you get to ride 'em.
Join Date: Jun 2005
Posts: 2,904
I'll be broke by the end of next week, but atleast I have enough money to cover the cost of rebuilding the RR and gixxer. I plan on reselling the gixxer to make some money.
Join Date: Jan 2004
Posts: 1,151
Lookin good man.. are ya tryin to build an army of bikes?
Next you should pick up a crashed ZX10 or something.
Join Date: Jun 2005
Posts: 2,904
if I get a liter bike, I know I'd kill myself. Besides, crashed 600's are cheaper to find and easier to fix since most people who crash 1000's are nubs who don't know what they are doing and a lot of shit is broken. Atleast in my area. I'll stick with bikes with just dmged plastics and minor things that needs to replaced. If I get more funds and time, I might get more tools to take on even more daunting projects.